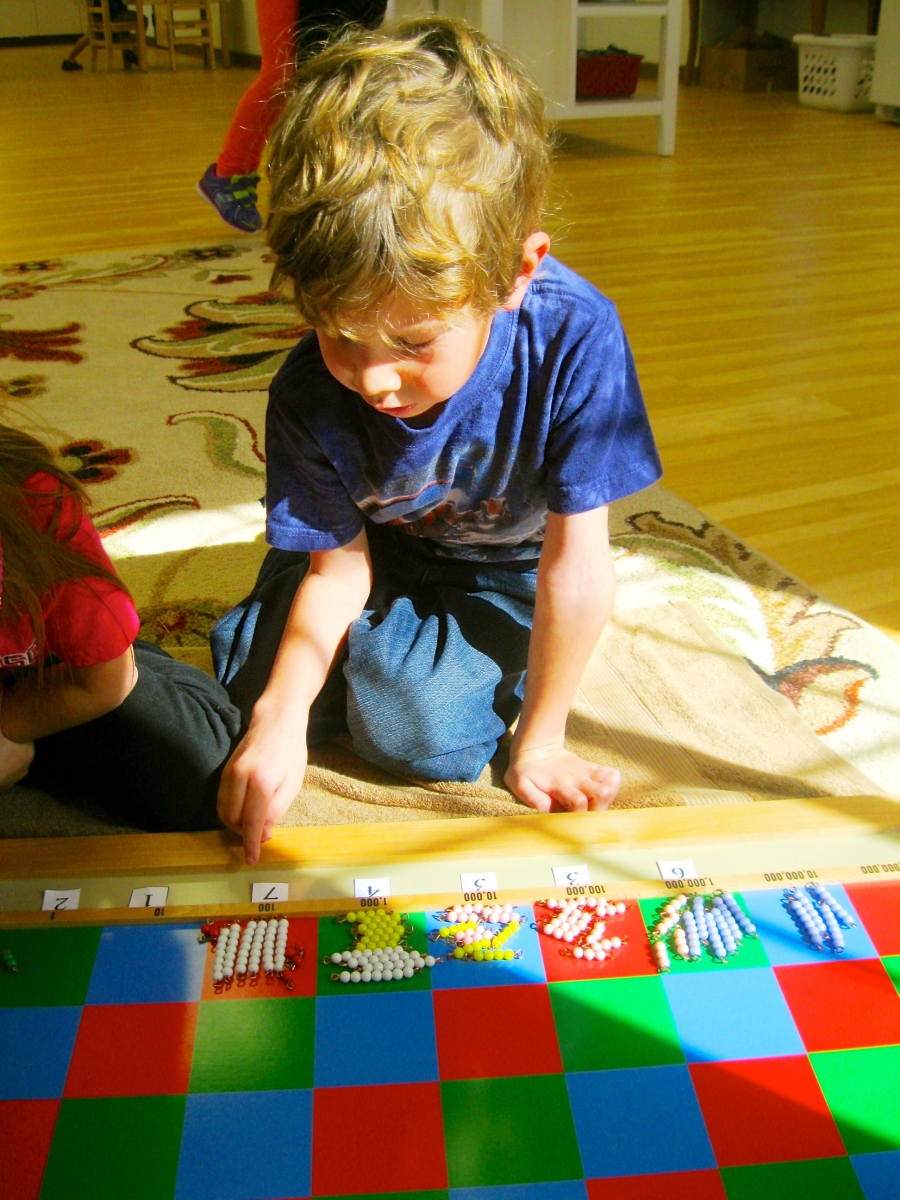 At Lifetime Montessori School, we offer a social, artistic and core curricula based elementary school experience that focuses on experiential, rather than rote, learning.
Our goal is to show your children the universe and help them find their place in it. This core Montessori tenant is based on your child's efforts to learn at his or her own pace and develop intellectual interests in their own way.
We begin by introducing five key components—all the while encouraging a teacher/student interactive dialogue to help foster individual and group learning. These 'Great Lessons' encompass English, science, math, language, civics and earth science knowledge. Additionally, learning includes field trips, music, art, language, sports, dance and gardening.
This interdisciplinary approach follows the Montessori philosophy that children learn best when they are masters of their own intellectual curiosity. This mix of learning, collaboration, connection, cooperation, critical thinking and topical integration marks a key difference between a Montessori education and a public, private or parochial one. We teach students in small class sizes to highlight thinking rather than memorization. The outgrowth: teaching life lessons that yield practical real world skills to engage and stimulate.
At Lifetime Montessori School, your children are active participants in their Grades One through Six learning. They have individual and group input and output. Best, whether your child is a fast or slow learner, they will move at their own speed. As a result, your child builds imagination, self-confidence, respect for others and learning how to learn for a lifetime.
Some call this 'thinking outside the box' but we call it the Montessori Method.
We develop the whole child while "acting as a catalyst, not as a creator, in the child's development."
Our century-old yet 21st Century approach to education turns out elementary school graduates who will transition easily into the middle school system. Through our Lifetime Montessori system, your incoming seventh grader will be well prepared to face the teen years—and beyond.
We offer a five-full day program from 8:30 am to 3 pm as well as before- and after- school care. Please see below for more information.
Cost of Your Child's Education
Lifetime Montessori School's full-day tuition and fees are roughly $1,000 per month, far less than other private shools in San Diego.  
Our student/teacher ratio is far lower than any public school.
Our costs are equal to or lower than other Montessori schools in San Diego County—and we're accredited.
Our costs are equal to or lower than San Diego County's parochial, religious schools.
And our costs are about half The Bishop's School, La Jolla Country Day or Francis Parker School—and half the commute time, too.
5-Full Day Program: 8:30 a.m.-3:00 p.m. Cost of $12,390/year*
Before and After School Program:
We understand that families may need to leave their child with us before and after school hours. We are open from 7:30 a.m. to 6:00 p.m.  Our program takes place in a separate room with play-based materials and games. The children play outside, have a snack and play with games, puzzles and toys. 
After-School Program Hours of Operation:
Before School: 7:30 a.m.-8:30 a.m.
After School: 3:00 p.m.-6:00 p.m.
We charge $6 per hour per day for our After-School Program. Feel free to download more information here.
Lifetime Montessori School is a private school located in the heart of Santaluz and serves children 18 months old through Grade 6 in the Santaluz, Del Sur, 4S Ranch, Rancho Santa Fe, Rancho Penasquitos and Carmel Valley communities.
*Plan A – Yearly – Single payment of complete school year less 5%.
*Plan B –Monthly Installments – The yearly tuition can be broken into 10 equal installments. These payments are the same amount each month regardless of the length of each month and are non-refundable. Your installment for June 2014 is due upon enrollment of your child
Enrichment Classes
Lifetime Montessori school will soon offer after school classes for Elementary age children.
Sign Up For Enrichment Classes for Primary and Toddler age Children